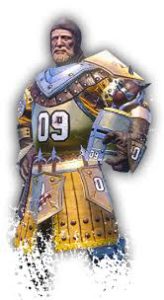 As mentioned in the NAF minutes and various newsletters, in the next few days we will open up a vote as to whether Khorne and Bretonnians should be added as NAF-sanctioned races.
The effect of this is that to be a NAF-sanctioned tournament these races would need to be allowed to be included, although as with the BB2016 rules a period of flexibility will be available.
The vote will be non-binding, but will hopefully (if enough people vote) give an idea on whether this is something that the membership wants.
Useful Information
Khorne were in Cyanide's BB1, but have not yet appeared in BB2.  Bretonnians are in Cyanide's BB2.  The stats for both races can be found
here
. From the statistics within these two games (thanks to dode for these) the win % is around 45% for both teams (where a draw counts as half a win, same as for BBRC).  This puts them lower Tier 1, so around the same strength as Humans or High Elves. The restriction on the Bret data is that only some of the teams have been available as opposition, but it is the best available. Khorne and Brets have both been used in NAF tournaments (with their games not being recorded in the database) but we have not been able to get enough data to draw any conclusions, so presenting any data would be misleading.  Do feel free to tell your anecdotal stories on the forum, however.
There has been vigorous discussion on the NAF forum so far, and you are encouraged to have a read and join in before casting your vote!
There will be the choice of both, Khorne only, Brets only, or neither.
It is worth noting that the NAF committee is neutral on this – it is something that various people have been asking for over a number of years, and it is only now that the work has been done on the database to make it possible.  This is the cause of the timing, which might seem strange otherwise with the release of BB2016.
The link to the vote will be put here as well as in the forum and on the front page, as well as being plastered over the usual social media.

This entry was posted in
News
on
September 12, 2017
.
Original author: sann0638