By Craig, on August 20th, 2016
Unlike the rest of my Antares, I'm hoping to take this Nuhu Mandarin a little slower. So just a very careful recessed layer of Nightshade, and some Sepia in the rocks.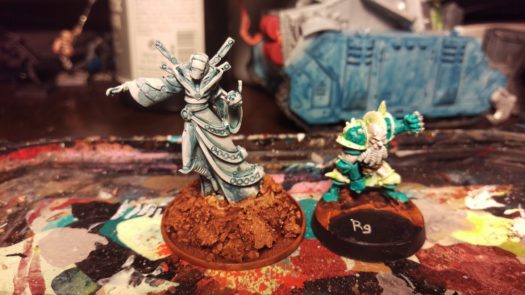 Then onto painting the Chaos Dwarf I raised from the dead during my game against Chris. Similar to the orc, he's just a zombie. But the opportunity to get models from my opponent and paint them in my scheme is delicious. (I got this unpainted dwarf from Chris, it's not an actual member of his team…that I know of).
He's following the shaded basecoat plan of the rest of the team. Sotek Green, Dheneb Stone, Fluoro Yellow, all mixed up with Dheneb Stone and White where appropriate. I painted his skill on his base because I had the Dheneb out. '
I think this is the only time I've ever painted a dwarf.
Original author: Craig