By Craig, on September 25th, 2016
I got a little drunk — enough to think that starting the next step of this project would be a good idea, but not so much that I couldn't actually do it. The project has been staring at me, haunting me, since my last post, because the next thing I needed to do was going to be very hard.
I decided, after consulting with my gaming club, to use FixIt Sculpt. I would use a board to press pieces of putty into the Basius, then slide the piece off the board and onto my display board. Because I only had a small section of texture to work with, this would require quite a bit of sculpting to mend the edges of each piece of putty.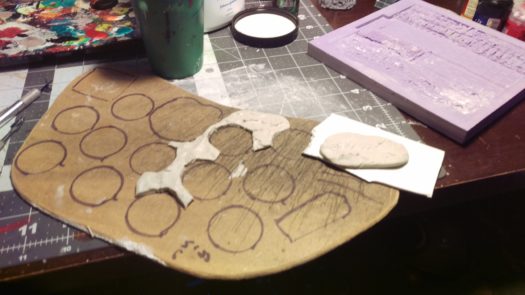 I started…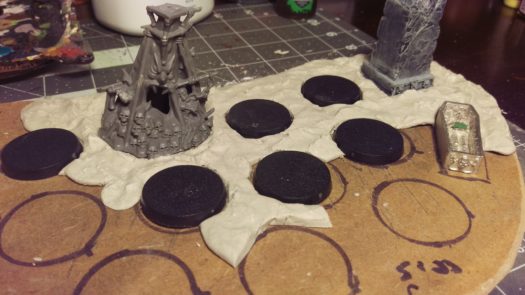 I started just by just placing the putty, then cutting away where I needed bases and terrain pieces to go.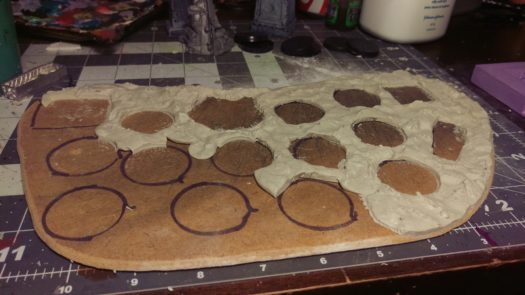 After a while, I realized this wasn't the best plan and started using the bases to cut into the putty. I'd apply it to the board, then press the base/terrain in where I'd drawn the circle and pull away the cut putty. This gave much nicer circles than cutting by hand!
The above two photos are the process. Use that tool to slide the putty off the board and onto my display board.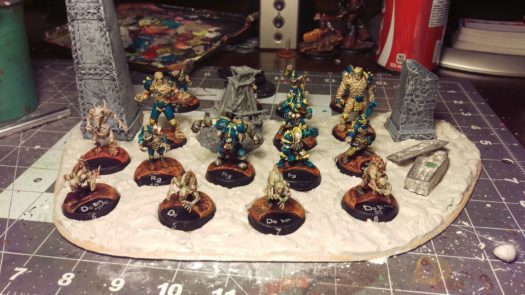 It took me 3 sessions to get to this point. I realized at the end of the second session that I'd totally messed up the count. >.< No idea why I thought 12 was the right number!! So I'm going to cut up a second board to nestle in behind the first, and cut only 4 spaces in it.
If you look carefully, you'll see a new addition to my team on the left…
Painting this thing is going to be relatively easy. The bases are just Dark Flesh, Mephiston Red and then a bunch of Sepia to shade. I had originally planned on putting some simple green flock in places, to mimic the CHOP! boards we have, but never got around to it. With this project, I think I'll get that flock on the bases as well as on the board, to help bring some other colours to it.
Between my conversions, paint job and this board, I can't help but to steal best painted for this season!
Original author: Craig