By Craig, on November 24th, 2016
I made 3 skeletons before this season started, assuming that I'd realize part-way through that the common internet wisdom that zombies were way way better than skeletons would turn out to be a little exaggerated.
It is not exaggerated, zombies are just plain better.
One of them is in my roster, because I paid for him and then that was that. One of them has been ripped off his base so I could use the base for a special project. And one of them has been converted into Hack Enslash, an Undead Star Player.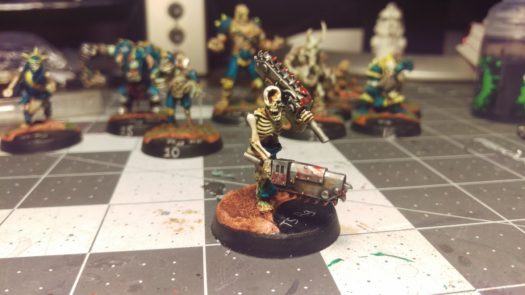 Clayton was good enough to give me an ork nob choppa which I split into two pieces, both of which were only about the size of my model. This was the best option — every other chainsaw was easily twice the size of him!
I'm playing Foodbowl this Sunday, and if you're at all interested in Blood Bowl you should sign up and come to the Fraternal of Order of Eagles. It's a special 4-player game that's going to be some crazy mayhem!
Original author: Craig