By Craig, on April 14th, 2017
This was a super productive night! I made dinner (plus lunches for a few days), watched a movie with my wife, did some work on my top-secret coding project and got a bunch of shading done on these guys!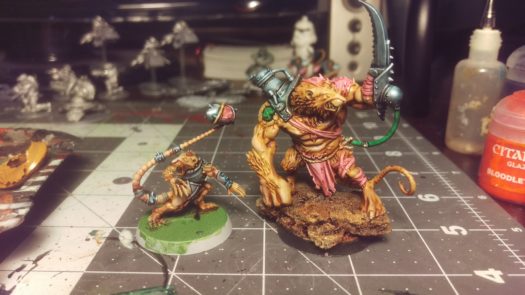 Once again I tried one of the Secret Weapon washes, and once again I was disappointed. I was only planning to use a little, but the dropped bottle had clogged and ended up spewing Red Black all over my palette. At which point I figured I'd use it, since it was there. But it again left a glossy sheen over my model. >.< Luckily it was an early step after basecoating, so there will be lots more pigments to go over it.
Really happy with the big guy! It's a really nice model, with nice big muscles to shade and good composition for my colour choices. He's going to look super awesome on the table! I want to drop some green onto his base to keep it in line with the rest of the team, but the more I paint it the more I think it just looks great as-is.
My defensive thrower is looking less awesome, but still pretty good. I think he needs a nice black rim on his base…
Original author: Craig