By Craig, on December 3rd, 2016
Here's a start to finish of a single Stormvermin. I just picked him out of the pile to be the first test model. He's a lot lighter than I had imagined, but I also was imagining a scheme identical to my Veer-myn scheme from years ago. (just went back to look at details on that link – those are poorly done models all over the place. >.>)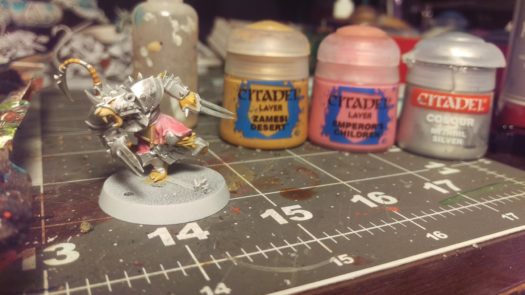 The base coat was 3 simple colours – Zamesi Desert skin, Emperor's Children cloth and Mithril Silver armour and other metal bits.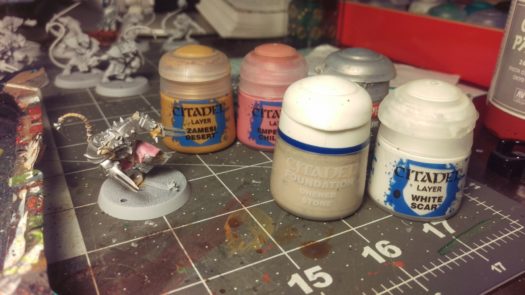 I highlighted that base coat by taking the Zamesi and mixing it with Dheneb Stone, and the Emperor's with White Scar and doing 3 quick layers.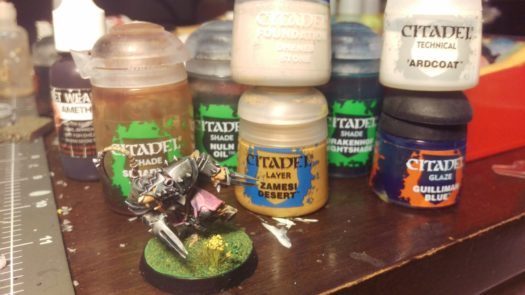 Then it gets really chaotic. Seraphim Sepia over the skin, wiped away the tops. SW Amethyst similarly on the cloth, but this got a little messy, I might do the Drakenhof first next time. Drakenhof in the silver parts, some Nuln Oil in places that needed more contrast.
I applied the decals at the wrong moment, after I'd finished all of this and it didn't look great so I had to go back again and re-metal and re-shade over the decal. Next one I'll do the decal after the base coat.
The base is simple as you can likely see – black edges are classy, Vallejo Goblin Green over. I won a pack of Rain City Hobbies flowers at the Blood Bowl Foodbowl so I glued some flowers to my rats base for fun. €
Original author: Craig