By Craig, on August 6th, 2016
I've moved my entire house contents from one location to another since I last wrote, so I'm quite happy to have had time to get some painting in!
Ballcrusher, as he is named, is officially my favourite member of Resurrection! I stole him from Dale, after killing an orc blitzer and now he's a zombie. Strength 2, movement 4, armour 8, zombie. I loves him so much!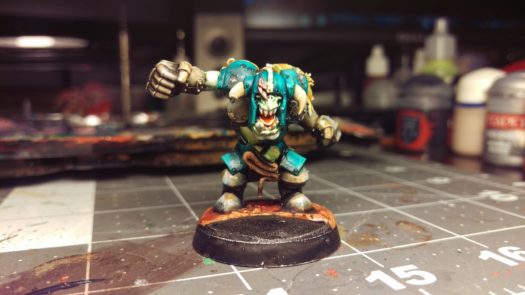 The above photo I think I took before I moved. I have no idea what I did to paint him, but I know I spent a lot of time on the fine fellow. He followed similar schemes as the rest of the team, but with some guts and destroyed armour and such. I'm SUPER happy with the orc flesh, it's Dheneb Stone with a Waywatcher Green layer over it. It's green and orcy, but super pale and undead.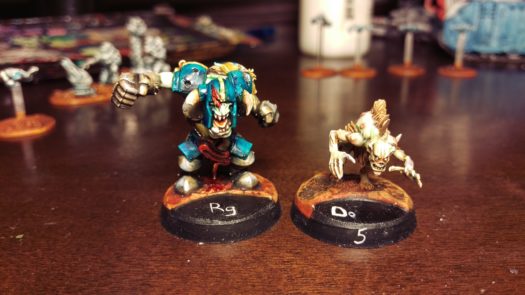 This next photo I took tonight after I finished him. Some Blood for the Blood God on his wounds (head and gut) and on the ground behind and under him. A bit of silver weathering and some white highlighting on the skin.
Also pictured is the ghoul formerly known as Shayne. He had Block and Dodge and Tackle and…-1 Strength. It was recommended by several people that I fire his ass, and so despite my attachment I did and for the first time made use of the "easy erase" feature of the bases I made. Some black painted over the skills and I have an unskilled ghoul again.
Original author: Craig