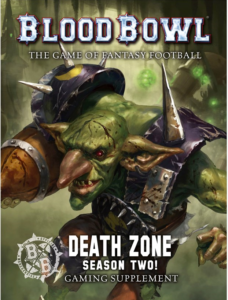 NAF committee met this evening to discuss the rules in Death Zone 2, which broadly fall into two categories – roster changes and inducement changes.  As with the previous ruling, we are allowing a two-month adjustment period.
Roster Changes
There are small changes to the Chaos Pact and Goblin rosters – a new Orc linemen for Pact and two new positionals for the Goblins.  These roster changes will be optional until the end of July (TOs choice), and then mandatory for NAF tournaments from the beginning of August 2017.
Inducement Changes
All inducements are optional, and this would apply to the new rules.  If they are being included this should be clearly noted in the rules pack.  If the tournament rules pack has already been advertised you should consider whether participants have enough time to adjust, if you decide to include the new inducements.
As with the previous Star Player ruling, if Stars are allowed, from the beginning of August if any Stars are allowed then all Stars from the previous NAF document and DZ2 should be allowed.  Until then the DZ2 Stars are optional for TOs.
There will be an official document with full details in the next few weeks.

This entry was posted in
Tournaments
on
May 28, 2017
.
Original author: sann0638