February in NAF Tournaments
Hello, and welcome to your February round-up of all things NAF tournament! We've had another super-full month with a total of 50 events taking place all over the world. We've been playing Blood Bowl in Greece, Chile and Malta, Sevens in the USA and Streetbowl in Uruguay. Alongside the real life action, Online NAF has been supporting the upcoming Dungeonbowl major (got your ticket yet? See you there!) and is gearing up for the fourth annual Road to the NAF Championship. There is a fantastic amount of NAF Blood Bowl happening, so I hope you're all getting stuck in! I can't share all of the fantastic things I've been hearing about the tournaments that have taken place this month in one blog, but here are three brilliant examples:
Belgian Championship BloodBowl 2018
The Belgian Championship is high drama in the low countries, and TO Jonas / El Hombre was kind enough to share this summary. I must say, it's always tempting to pop over to Bruges for some BB, to see the sights and to drink some of that lovely beer, but doubly so when you see how lovely this venue is!
32 coaches attended for the two day, six game Belgian Open Championship. It was held in the Abbey of Zevenkerken, a wonderful location in the woods of Bruges.
Here is a full list of the results:
Belgian Champion: Timothée Meert
2nd: Mats Clays
Most TDs: Mats Clays
Most CAS: Lenn Wan
Best Sunday Comeback: Bart Verstuyft
Wooden Spoon: Pedro Rosa
Best League: 
39pts: League of Rodents (Jeroen Carlier + Karel Meuleman)
38pts: HQ League (Mats Clays + Lenn Wan)
38pts: Filthy Fowlers (Dries Goutsmit + Tine Wouter)
38pts: Winter League (Timothée Meert + Francois Thielens)
27pts: Stellar League (Sammy Mannaert + Sven van Petegem)
(I used total league points as tiebreaker. So coming over with multiple league members paid off!)
Best Painted: Frank Wille 
Youth League: Timothée Meert
In order to stimulate a healthy competition between the different leagues, we ranked the 'Best Belgian League'. For this, the combined scores of the top two coaches of each league were taken into account. Ideally I would have taken the top 3 or 4 coaches from each league, but by only taking two, I could add more leagues into the ranking, as some leagues had only 2 participants at the tournament. I think this is certainly something to continue in the future. The youth league was created because we had about a third of 'new' coaches in the draw (this being their 3rd tournament at most), but in hindsight it wasn't necessary, since they competed at the top level!
In general it was a great weekend, lots of new faces, a healthy atmosphere and the kind of fun only a Blood Bowl weekend can generate.
I've stolen the lovely photos above from the Belgian BB Facebook page. Best league is a really nice idea, isn't it? At a national championship event like this, a battle of the leagues is kind of a tournament within a tournament. Great stuff!
In the USA, the one day tournament numbers record (held by the Orclahoma Bowl) was smashed by the 2017 running of… the Orclahoma Bowl! Steve of the Both Down podcast had this to say:
These photos are from Orclahoma '18:
The first image is Crom, the star player that we always have and did a figure of a couple years back. The team profile pic is the winner of "Fan Fave": the Feeding Frenzy
Then we have Anthony Emmel who won the Charity Raffle team the Lava Drinkers, we raised $415 for charity. Donated by Dustin Parsons. Then we have pics of the 2 painted teams and box sets that we gave away. Also painted by Dustin Parsons.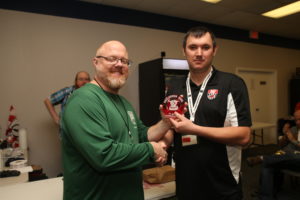 Then a pic of 1st place winner, Nebojsa Trivanovic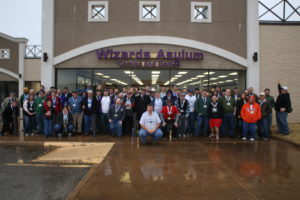 Then a photo of all of us in front of Wizard's Asylum where we ran it. Bonus info is it started to rain just as it was being taken! '
Highlights of the event:
60 coaches played, which is the record for largest Single Day BB Event in North America. Beat the record that we set last year. Coaches attended  from around the nation, from Washington to Virginia. Nebojsa was separated from Denny in second by the 4th tiebreaker!
1st: Nebojsa Trivanovic
2nd: Denny Frank
Del Zine Cup (what we call 3rd place): William Toups
Best Offense: Shawn O'Donoghue
Best Defense: Rich Bonfanti
Most Brutal: Drew Buccicone
Fan Favorite (Kidna like best painted, but people can vote for whatever team they like best for whatever reason): Mike Patterson, Feeding Frenzy
Best Sport: David Dicharry
Stunty Cup: Dustin Parsons
Back of Pack: Donna Holoway
Excellence in Cheese (An award we have to give away for whatever reason we choose): Dustin Parsons (for donating the team for charity and for painting the teams we gave away)
I hear big things are afoot for 2018 and there is hope of attracting plenty of international attendees. Anyone fancy the trip?
Finally, the thirteenth Waterbowl took place in Manchester, England. I've written many more words on my experience over here, but suffice as to say it was a cracker. Well done Pipey (check the link for a fine picture of the man himself) on his fine victory!
TD notes
It's been another packed and rewarding month to be NAF TD. We've appointed two new members of staff; Matt le Fou has joined the team in France as South West RC, and we've added Yogibedlambear in the UK to look after London / the South East. We're seeing a huge surge in activity in this area with BB2016, so someone with Yogi's local knowledge and contacts within new leagues is a really useful strategic addition to spread the NAF word to those just joining the community. I approved my first tournament on the continent of Africa (South Africa, to be precise), which is pretty great; let's hope the game there continues to grow! The overall count for February (so far – I have more in my inbox as I type!) is 59 Blood Bowl tournaments approved, 7 Sevens and a Dungeonbowl, so a huge 67 in total.
Along with approvals and appointments, there are cool, tournament based projects bubbling away behind the scenes. We're not yet quite ready to share the outputs of this work, but rest assured I'll be loud when we are. For instance, the World Cup rules are coming, but not just yet! I know people are keen to start pouring over the Dornbirn pack, and I promise it'll be with you as soon as it's complete.
In lieu of completed projects to discuss, I thought I'd use this space to instead broach what can be a controversial topic – tournament sanctioning. This month, while we've approved 67 events, we could have made 68, however we (amicably) lost a tournament that didn't meet the requirements set out in our sanctioning document. This is really sad, but when you have sanctioning rules, I guess you are inevitably going to lose the odd one or two.
Some people ask us, why have a sanctioning procedure at all? Should all Blood Bowl not be immediately welcomed by the NAF? It's a good question. I think that we have a sanctioning procedure so that, when a Blood Bowler attends a NAF sanctioned event, they know the tournament carries a stamp of quality and will use consistent, core rules they recognise as Blood Bowl. If I am shipped out to Jamaica with work (yes please, boss!) and pack my Dwarf miniatures, if I find a NAF tournament where I am stationed, I should be confident I can use Dwarfs at all, that I can field 0-2 Runners that cost 80 k, that Tackle is unchanged as a skill and that Thick Skull hasn't been banned or deleted from my roster. I should also not find 4 turn halves or the kickoff table is replaced with Jamaica spice! Roll 2 D6 and remove this number of players from the pitch! These are exaggerated examples to make the point, but this is why I think sanctioning exists; to bring some consistency to events and provide attendees with a warm fuzzy feeling that the tournament has a NAF seal of approval.
There are a thousand ways a TO can bring personality and individual charm to a tournament, but sometimes they go a little far and overstep the guidelines laid out in the document, changing 'core' BB. Usually, we can work this out with a short negotiation (of those 67 tournaments sanctioned this month, I've had a short or long chat about one thing or another in 30 cases. Usually minor things like funny dates or links to the correct NAF rules documents, but occasionally less so), but very occasionally, a tournament decides to go it alone without sanction. While I think the NAF should continue upholding the sanctioning procedure, these are undoubtedly sad and unsatisfactory losses. I'd love to sanction everything!
It's important that the sanction document is current and reflects global trends and membership wishes. It was last updated with the help of a sub-committee Nate set up in 2017. I intend to undertake the same process in 2019 with the global tournament staff and make sure we're all happy with the rules and guidelines we set out for TOs. I am planning to make this process more transparent and encourage membership input via their local staff, so keep your eyes peeled for when I outline that late in 2018 / early 2019. Additionally, I'm thinking about ways we can potentially accept every tournament. I have some early ideas on this, but nothing that's thought through enough to talk about, yet. The goal of accepting everything while maintaining our sanctioning standard is a worthy one, I think?
In closing, if you submit a tournament to the NAF, make sure that you're up to date with the sanction document, you comply with the rules it lays out, and that you submit more than 8 weeks out from the date. Give us plenty of time to check your rules and chat through any conversation points. Also, book early to avoid clashes. As BB grows, so does the number of tournaments we have submitted to us, so get in there first to avoid the disappointment of your date being taken by someone else near to you!
Why Didn't I think of That?
This month, let's talk tiering. I suspect everyone that's been to more than one or two NAF tournaments has encountered tiering; extra skills or cash (or both) that makes lower tier teams more attractive than they otherwise would be. The extent to which tournaments tier is always quite interesting; the amount of help given to the lesser rosters ranges from a nod, to enough to make them attractive to even the most competitive coach, to an extreme where Underworld are bordering on being as attractive as more traditional powerhouses like Dwarfs.
Three examples of the most interesting tiering I've come across are the Ironmanj rules now used at the Spike! major, the Danish 'All Teams Viable' initiative and the Monkeybowl system (link within a link, there). All three of these rulesets are interesting for different reasons. Ironmanj is incredibly elegant; I always admire rules that can be explained very quickly but have hidden depths. The Danes have probably stretched tiering as far as the sanctioning document can allow with ATV, and have smashed the traditional 3-4 tier groupings to pieces. Monkeybowl is like tier-ception; tiers of skills and stats within tiers of teams to give attending coaches weeks of joy sketching rosters on the backs of envelopes / headaches. I know I have both of these every year!
As with all tiered rulesets – I don't think there is any such thing as the pack that makes all teams equally attractive. That isn't / shouldn't be the goal of tiered rulespacks anyway; it should be about gentle help rather than ultimate balance (you can debate whether you like Blood Bowl's inherent imbalance another day, but I love it!), and there are always winners and losers. I think one of the most attractive things about such rulesets is 'fishing for value'. In each example I've given above, I think there is a lower tier team or two that really stands out and probably represents more value than others at the same level, and I probably see different value differently to the next guy!
Do you have a favourite tiering system? Comment below! While tiering has quickly become the norm, it has it's limitations. Sometimes, it's really nice to play a more traditional tournament like the Waterbowl, and heavy tiering such as that discussed here has a time and a place. It's just one of the things that brings near limitless personality and variety to NAF tournament Blood Bowl, and long may it continue.
As a bonus extra – check out the Monkeybowl double roster gimmick. Having played with this for a few years now, it's a rather ingenious and brilliant way of mixing it up on a weekend. Another fantastic innovation I wish I'd thought of!
Holiday plans
Where should you be booking a break in July to coincide with great NAF Blood Bowl? Well, I've delved into the database, and you could do a lot worse than choosing one of these three…
Leyendas de Montevideo II – 8 Jul
A trip to South America is probably on most bucket lists, so why not stop off in Montevideo for some NAF Blood Bowl while you're at it? Drop Caio a line for a Uruguayan good time.
III Bilbali Teams Cup. Memorial Aitor (7-8 July 2018) Getxo – 7 / 8 July
Easily my favourite tournament of 2017, the Bilbao team put on an amazing show. Enjoy beer from a local craft brewery, sun, Pintxos and great company for a fine weekend of nerding. Perfect. I'll be back!
XVI Luccini Summer Cup 2018 – 21 / 22 July
Does the 2015 World Cup still live fondly in the memory? It certainly does for me. How about a trip back to Lucca to revisit old haunts and relive the fun? You could do a lot worse than joining Andrea and reminiscing.
Got a tournament in August you'd like featured? Make sure you're in the database and / or drop me a line!
Next time
In March, I'll be in Düsseldorf for the Dungeonbowl, as well as just around the corner for my local, Boudica Bowl 2018. See you back here in a month for another tournament roundup! In the mean time, please leave any feedback or comments below. Happy to hear it all!

Original author: purplegoo