Introduction
Hello, and welcome to what I hope is going to be a monthly or so blog about all things NAF tournament. As newly installed NAF Tournament Director (TD), I should be talking about tournaments, well, SHOUTING about tournaments, and between this blog and another I'll mention later, I hope to do just that. I want this blog to be somewhere where I can point to some of the fantastic things Tournament Organisers (TOs) do, as well as highlighting what's going on in the tournament world, where you should think about going on your holidays and somewhere to talk about the stuff that comes across my desk as TD. If you have any feedback or ideas for things you'd like to see in a future version of this blog, please don't be shy, comment below!
January in NAF Tournaments
It may only be the first of the year, but I think it's fair to say that January is one of the biggest months going in the NAF tournament world. This month, we saw no less than 36 tournaments (28 Blood Bowl, 4 Sevens, 1 Streetbowl, 1 Online) contested across the globe; from Wales to Uruguay and from Denmark to the US. It's great to see tournaments like the Torneo CUBBO Verano 2018 being played in South America; this is a real area of growth for NAF Blood Bowl, and we have fabulous, passionate local staff such as NC (NTO, in old money) Caio spreading the NAF gospel. There are too many brilliant  January tournaments to talk about each in detail, but I've picked out three fine examples to discuss:
CanCon Australian National Blood Bowl Tournament
No better place to start than the first NAF Major of the year. TO Chopper has been kind enough to do me a little write-up and send through some photos. Enjoy!
The Australian Blood Bowl Nationals were held over the Australia Day long weekend at CanCon in Canberra. Across the three days and 7 rounds, 36 coaches took part with 18 races represented including the Bretonnians and Khorne.
The matches were played in great spirit which was fantastic to see, especially considering we had half a dozen new coaches and several returning after being away from the game for a while.
The format had changed this year from it's traditional progression format to a resurrection / progression format with a sweetener for Stunty teams. Basically, the coaches got to develop their teams through skills after each game without having to worry about injuries destroying their chances at winning. The feedback from the participating coaches was incredibly positive which is always good when such a change is undertaken.
Our Honours List:
Champion – Luke Morgan (Dark Elf) – 6-1-0
2nd – Joshua Ng (Skaven) – 5-0-2 (note – got enough bonus points to jump the gap between a close loss and a draw)
3rd – Matthew Web (Chaos Dwarf) – 5-1-1
Stunty King – Aaron Green (Ogres) – 3-2-2
Most TDs – Cullen Russell (14)
Most Cas – Leigh Cole (35)
Painting – Best Team – John Barker
Painting – Best Mini – Emma Bigwood
Commissioner's Award – Andrew Old
The most popular race was Human with 5 teams.
The following races had 3 teams:
Bretonnian
Dark Elf
Norse
Wood Elf
The next races had 2 teams:
Amazon
Dwarf
Khorne
Lizardmen
Orc
Undead
Finally, the following races had one team:
Chaos
Chaos Dwarf
Chaos Pact
Goblin
High Elf
Ogre
Skaven
Congratulations to Luke! He will eventually take his rightful place in the
Major winners document
. I was updating this until 2016 and took a little break; we probably need a keen volunteer to bring this up to date. Any takers?
What an event! According to the Spanish forum, 225 (yes, that's 225!) coaches descended on Valencia last weekend for a simply massive individual event. It may have had something to do with the free bar; a dangerous thing to show Blood Bowlers, in my experience. The tournament was won by Rolex as his Bretonnians managed an impressive 6/0/0; check out some photos provided by Leipziger below. I think I need to make a trip to Valencia next year…
The UK calendar kicked off with the 160 coach UK Team Championship. I've written some words on my experience here, and you can also go to the website for all of the results and many photos from the event. Well done to mubo, KFoged, thebeanbag and Sizzler (Three Champs and a Chump) on their victory!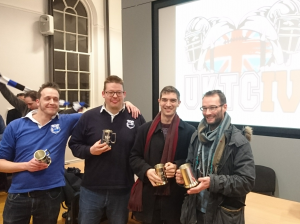 TD Notes
It's been quite the whirlwind, settling into the role of NAF TD. I've been lucky to have Nate around to guide me through some of the complexities of the role and the website, and there has been much to learn! The meat and potatoes of the job is, of course, checking and sanctioning tournaments that the membership submit to the website. This month so far I have sanctioned a fantastic 52 BB tournaments, four Sevens variant events and two lots of Streetbowl. So, 58 in total! Sanctioning an event can be as easy as just ticking a box, but sometimes I need to chat to a TO and ask for a clarification here and offer advice there. This is easily the best bit of the job so far; talking to TOs and helping complete their already brilliant rulesets.
As well as sanctioning, we've been able to welcome new tournament staff to the team. JaKa and Itzuke will serve in Chile as NC / RC respectively, and Inforthepain joins the team in Sweden as NC. Welcome, all! We've updated the sanctioning procedure to include Khorne and Bretonnians, and I've been introducing myself to the global staff and hosting an AMA on the NAF members website (feel free to pop in there). Finally, it's been a real pleasure to get involved with the NAF World Cup Rules Committee. The rulset for the NAFWC is coming along really nicely, as is the rest of the tournament. Expect more details from the team soon enough, I won't be stealing any of their thunder here! A full and busy month, then, but a fun one!
I did manage to also play a bit; as well as attending the UKTC, I managed to play in the Online Welsh Open. Strider84 is doing a grand job with Online NAF, and I had a blast playing NAF BB on FUMBBL. Well done to Kithor and his Wood Elves for a great victory!
Why didn't I think of that?!
In this section, I want to highlight tournament rules or cool things that I happen across that are new to me. There is some brilliant, innovative stuff out there in the NAF world, let's talk about some of it. You might even steal the odd idea for yourself!
Firstly this month, we've all played in tiered tournaments, right? But what about this. At New Zealand's Capital Shield 5, TO Shteve0 uses a 'stock market' system to place teams in tiers according to their popularity at NZ tournaments. Taking a look at the rulespack, Wood Elves have not been popular, and have slipped to T2! I think this is a really neat way of shifting the meta year on year while retaining a core ruleset coaches remember and enjoy. If there will be more Woodies in 2018, do I need to counter that? Have Vampires fallen far enough to be viable this year? Where is the value? Cool stuff.
And because it's the first month, as a bonus, check out Loser Bowl from the USA. This is a slight riff on Belgium's infamous Turncoat tournament; I love the concept. Put together a team roster you want your opponents to lose with (according to some constraints; no 11 man, no re-roll Snotlings!), however you have to also use it yourself and try and win with it in the end. How do you go about that? Just make it awful and hope you get lucky? Incorporate a little gimmick you feel you'll be able to exploit but others won't? It's a fascinating spin on the standard. Turncoat goes one further and makes you play with your roster twice and your opponent uses it twice, so I guess here you have to make the thing viable enough, but not too good!
Holiday plans
In this section, I want to look 5 months ahead and highlight some tournaments it's worth you travelling to, if you're so inclined. I'm probably going to lean heavily on the NAF database for this in future, so if you want a name check in this section, submit your tournaments early! Always worth a note / bribe if you want a shout-out…
Spike! Magazine Championship 2018 – 2 / 3 June
Easy one first. The fourth major of the year has moved to June in 2018, and a trip to Vancouver should be on everyone's fantasy bucket list. The team really look after out of towners, so I can vouch for the Spike! as a great weekend away as part of a holiday. Website to be updated, no doubt.
Lutece Bowl 2018 – 16 / 17 June
I wrote a thing about Lutece here a few years ago. A real peach of a French team tournament; Lutece is everything you want in a summer Blood Bowl-fest. They got 160 last year, no doubt it'll be huge once again.
Eucalyptus Bowl – 30 June / 1 July
The largest tournament in the Southern Hemisphere (so it says over at Ausbowl) is back for more on 30 Jun / 1 Jul. Over 50 coaches attended last year, and I've no doubt it'll be big again. I hear nothing but good things about the Euc Bowl, so I hope if you're down under, you get chance to go.
Next time
In February, I'll be in Manchester for the Waterbowl, one of the UK's most prestigious and oldest events. Lovely! I'll be back talking tournaments towards the end of the month,and if you want to see me talk about something specific I've not covered here, shout!

Original author: purplegoo