Further developments on the NAF website!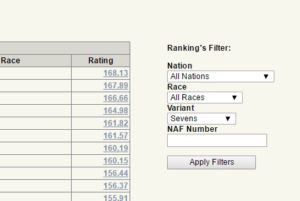 For a while, there have been some tournaments around the world played as Sevens, Streetbowl, or pure Dungeonbowl tournaments.  Now, for the first time, these tournaments have their own rankings.
The main (and default) "Variant" is still "Blood Bowl", and so the vast majority of games in the database will not be affected, but we now have a world #1 Sevens coach, and so on as well!
This is also the first stage in adding the Online games from the Fumbbl NAF tournaments, and these will be uploaded soon, with "Online" being an additional Variant.
There is a small amount of manual work needed to implement the Online tournaments, as we need to populate a table matching NAF nicknames and Fumbbl nicknames.  This will be done electronically in the future, but if you would like to help, do let sann know (comment below…)

This entry was posted in
Tournaments
on
June 22, 2017
.
Original author: sann0638