March in NAF Tournaments
March has been massive. Not only have we been playing Blood Bowl in 49 tournaments across 4 continents (including one Major), we've seen the soft-launch of a new ranking system, fought it out online in the Road to the NAF Championship and learned more about the 2019 NAF World Cup in Dornbirn. Phew – what a month!
World Cup news rightly comes first. At the Dungeonbowl, Torjub and his team were out in force, selling raffle tickets and showing off the fantastic looking WCIV Underworld team. You can view these up close if you're attending one of the tournaments on the team 'tour'; the Thornpear Valleyshockers will be rocking a venue near you soon!
Torsten in his element at the Dungeonbowl – a lovely display!
The Thornpear Valleyshockers and vmcat beautifully modelling their commemorative tour T-shirt
The rules for the WC were released shortly after the DB, and if you visit the WC website, you can download them and also begin to sketch out your roster in the handy WC Excel roster builder. I've already heard of plenty of tournaments gearing up to run the WC ruleset, so you'll likely have bags of practice opportunities before the big show. Lastly, it was revealed that the WC pitch would be shown off at May's NAF Championship in Nottingham. Exciting stuff, can't wait!
As ever, March featured far too many awesome tournaments to talk about in detail in a short blog, but here are three examples:
Perhaps the world's best advertised Blood Bowl tournament. I can't seem to move about the BB internet without this popping up, and it looks an event worthy of the hype. TO LEONIDA / Allesandro writes:
The Fulginium Bowl is the oldest Italian 7 match tournament (the first edition was in 2008), and it is much appreciated for it's location, as reported in a NAF article (where it was mentioned as the "food tournament"), a beautiful typical hotel restaurant in Umbria in the center of Italy, "Il Borgo dell'Ulivo" (http://borgoulivo.it – https://www.facebook.com/albergoilborgodellulivo/). All players can sleep, play and taste the special dinner with an over 20 course meal (that has a certificate of excellence from "Hobbit-Advisors"), and is now famous in many parts of Europe having hosted players from 6 different nations over the years. During the last edition we had players attend from Belgium, Germany, the UK and Malta.
For those that want come with their wife, girlfriend or only to relax and holiday, we are in the heart of romantic and medieval Italy; about 5 Km from Trevi and 15 Km from Montefalco and Spello (that is famous for two Italian red wines: the "Sagrantino" and "Rosso di Montefalco". There is the possibility to visit the farms where are produced!), 20 Km from Assisi (the town of San Francesco) and Spoleto, 40 Km from Perugia, 60 Km from Gubbio and Todi. Other appreciated. typical products of Umbria are genuine olive oil and truffles. All this is in Umbria, a region in the center of Italy, out of Umbria we are 150 Km from Rome.
Here are the winners of the Fulginium Bowl 11:
First Place: Beppe – Khemri
Second Place: Fagio – Undead
Third Place: Diomlord – Orcs
Best Stunty: Bucky – Ogres
Best Defence: Panicoblack – Khemri – 4 TDs conceeded
Most Touchdown: Tombecker – High Elfs – 17 TDs scored
Most Casualties: Sumo – Dwarfs – 23 CAS 
Best Foreign Coach: Metalmalta – Necromantic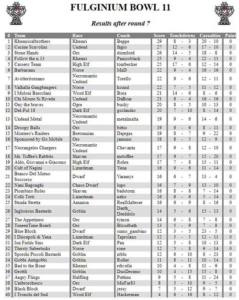 We also have our Facebook page : Fulginium Bowl – il Torneo di Blood Bowl di Foligno, where you can find more photos!
Some photos of Blood Bowl and, more importantly, a 20 course meal! Blimey… Well done, Beppe!
Only the sixth tournament in Czech Republic history, the Prague Bowl is interesting because of the lovely location and because of the beautiful game spreading to new territories. I didn't quite get to a write-up delievery before this blog went to press, but if we do later, I'll edit it in! Check out the Prague Bowl website
here
, and congratulations to docmaxx / Marian for winning with his Bretonnians! I stole this photo from Facebook. A trip for 2019?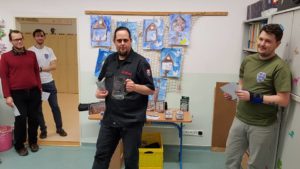 No March write-up is complete without a nod to the 15th Dungeonbowl, 2018's second NAF Major tournament. You can check out all the results at the DB website 
here
and photos on Traveler's site
here
, or risk my blog
here
for some decidedly more iffy coverage and iffier haircuts. As ever, it was a terrific weekend, and congratulations to Diomlord for joining the ranks of NAF Major winners with his Orcs. Hard lines to Twyllenimor, who narrowly missed out in the Dungeon.
Your 2018 DB final! Diomlord is on the left
 
TD Notes
It's been a busy month. As well as sanctioning lots of tournaments (exact numbers are in my NAF notebook, which I've helpfully left at work over Easter! I shall edit this on Tuesday) and helping TOs along as they compile brilliant, individual rulesets, two big projects have seen the light of day.
Firstly, it's brilliant to see the World Cup rules out in the wild, and it's been affirming to see a pretty excitable reaction to them. Working with the WC rules committee and then the NAF committee to take the initial idea through to the polished pack you now see was a really positive experience, and it involved many robust, in-depth discussions on each little point with tip-top, experienced coaches. And also a whole lot of roster building! I think what we ended up with contains something for everyone. The competitive, tier 1-2 races are largely as they were at Lucca, however there are a couple of little wrinkles that afford coaches more choice with their roster builds. If your favourite race lives in tier 3 or 4, I think you've been given a fair boost and you won't regret using it over nine games. There is plenty there for the theroybowlers among us; I'm sure there are many that are already sketching out a roster exploiting some value spotted in a lower tier; a diamond in the rough. Finally, the team building system allows coaches that want to do something a little crazy to go crazy. Want to spend all of your cash on a 0 RR, 2 star build? Be our guest! It's not an easy job, writing a rulesepack that pleases everyone from the most competitive player to the most committed Stunty coach, but I hope you'll agree that this is a fair attempt. Torjub and the team are showing a lot of care and attention to detail in every area to make the World Cup a smash hit, and it was terrific to play even a small part in that.
Secondly, the soft-launch of the Glicko ranking system has given some members features they've wanted to see in the NAF rankings for years. We've been careful not to claim Glicko is any better or worse than our traditional Elo numbers; it's just a different way of doing things that offers coaches more choice in how they choose to measure their performance. This is a great example of a volunteer (in this case, mubo / Nick) working away on something for the NAF over months or years and then the wider NAF team helping to first cheerlead and then to deliver it. As these rankings progress, include additional features and become fully formed, we hope that they become another offering from the NAF that members can enjoy playing with or shooting for. Again, the reception to this has been largely positive, but there has also been a little confusion over what produces an 'active' ranking in the system. Expect a detailed explanation of this to appear online shortly, probably around the time of the April update, when we get to see who has made the biggest progress in the first month of these more reactive numbers. It is a new system that attempts to do something a little different than we're used to, and I think an important thing to remember is that everyone gets a ranking, but to be listed as 'active', your activity with a certain race as well as your opposition is important. When I kick off my long-awaited Khorne career, the system will be much more sure of my skill level (and as such, lower my phi and make me more likely to receive a ranking) if I play three tournaments in a row against well practiced, low phi opposition than if I play a couple of one-dayers against largely new coaches over eighteen months. While that is a wild example, I think it goes some way to illustrate why some coaches have fewer 'active' rankings than they expected to see. As we get out of alpha and into beta (and beyond!), I'm really excited to see how these rankings bed in with the community, and am really happy we were able to make them a reality. Many thanks to mubo on a brilliant job, and we're always looking for more volunteers, either with their own winning ideas, or that are able to contribute to projects already ongoing. Hit my inbox if this sounds like you! We're always keen to get feedback about new features, so please don't be shy if you'd like to comment on anything Glicko related.
Why Didn't I think of That?
This month, I've been thinking about some ideas that affect the pre-game. I mentioned the double-take gimmick last month, and played in a tournament where this caused plenty of metagame chat a couple of weeks ago, so I was already thinking along these lines when the ruleset for Nuffle's Wyld came along.
The spin is as follows. Coaches each receive three poker chips (thematic, as the fluff of the tournament is gambling / playing in a casino) featuring different symbols. Before play, select a chip under the table, and then simultaneously reveal. The combination of the two symbols lead to an in-game effect, e.g. -1 to passing, -1 to injury rolls, etc.
I think this is a nice and elegant wrinkle to the pre-game sequence. There are six possible outcomes, and you only have some control over which you end up with. OK, you can plan for -1 to injury rolls for your Wood Elfs, but what if the other guy picks the chip that gives all players +1 to pickups and catches (negating some Woodie advantage)? There is some bluff and counter-bluff here, and I think it makes for a fun five minutes before the game trying to psych-out your opposition without the game being irreparably damaged if you get the wrong combo for your race (of course, you can totally avoid the combo you really don't like by avoiding that chip). You can imagine either raising or lowering the stakes if you re-wrote the outcomes for yourself, I'm sure there are any number of neat combinations available. Do you have a favourite pre-game gimmick from a tournament you've attended? Mention it below!
Tiebreakers can be a thorny subject at BB tournaments. What's best? TD difference? Most CAS? Strength of schedule? A new idea is objectives. At Stone Bowl in the UK, coaches are dealt five objective cards before play. Completion of these objectives during games accumulates tie breaker scores, perhaps changing final placings. I think this is a really neat idea; not only extra, in game meta-things to accomplish, but most importantly, they're simply breakers rather than something that clouds who wins the tournament. It's a good example of a TO being creative and adding some fun personality, but not having fluff overcome the Blood Bowl. Good stuff!
Holiday Plans
Got time off in August? The NAF tournament database is full of goodness (although it has to be said, not that many August tournaments have been submitted yet. Got one in September you want to see here? Sling it in!), here are three examples of attractive Blood Bowling vacation destinations
RUGBOWL 14e édition – 18 / 19 Aug
A favourite of mine. Brilliant weather, a great standard of Blood Bowl and more local beauty spots and culture than you can shake a stick at. Go, go go. Can't recommend this enough!
The Pickle Bowl – 18 Aug
Canadian craft beer and a farmers' market for all of your foodie needs. Sounds pretty attractive to me. Also Blood Bowl, I guess. ‰
Khorne Husker Cup – 25 Aug
Fancy a trip to Omaha? The Khorne Husker is a fine example of a typically US ruleset. If you're a Euro and you fancy something a little different while on the bucket list completing US road-trip, this looks a good one to drop by!
Next Time
April is the month of the Ausbowl Team Championship (the Oceanic Eurobowl / Amorical Cup), so there will be some coverage of this big one. I'll be in the frozen north of Hartlepool for arguably the UK's strongest field at Monkeybowl, and the world of Blood Bowl will be experiencing perhaps it's busiest ever weekend. From Thur. 12 – Sun. 15 April, there are no fewer than 20 tournaments due to take place. Mind-blowing stuff. Let me hear all about it, and any other feedback, please drop it below the line. Love to hear from you all!

Original author: purplegoo